Complete Story

10/06/2017
Regional Council Meetings: Nov 14-16 / Northern Breakfast Forum: Nov 8th
He's back by popular demand!
Every printer needs an annual refresher course on avoiding OSHA fines and penalties. Plan now to hear Gary Jones, PIA's Assistant Vice President of EHS Affairs, bring you up-to-date at one of our regional fall meetings, November 14th through 16th.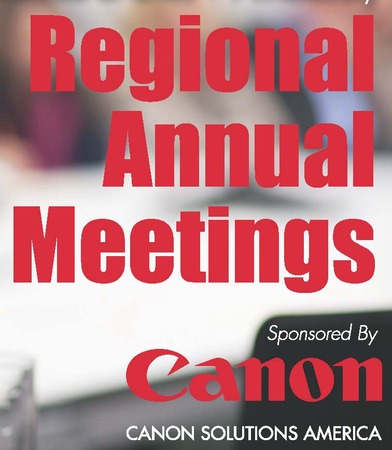 Our fall meetings are open to all members and guests and are held regionally. Presented by Canon Solutions America, this year's meetings will feature Gary Jones, Asst. Vice President, EHS Affairs, Printing Industries of America. Gary will provide an update on OSHA and EPA Regulations.
Lunch will be served and a brief business meeting will follow, during which, new Regional Council Officers and Members will be elected. We will also introduce and welcome our new PIEF scholarship recipients.
It's time to register now!
Program:
11:00 a.m. Registration
11:30 a.m. Speaker - Gary A. Jones
12:00 p.m. Lunch
The regional annual meetings are open to all Printing Industries of Ohio • N.Kentucky members and guests. The meeting will also serve as the fourth quarter meeting of each regional council and new officers and members will be elected.
Our guest speaker, Gary A. Jones, Assistant Vice President, EHS Affairs, PIA, represents the industry at the federal, state and local levels working with agencies on regulatory matters impacting the printing operations.
Cost (includes lunch):
$50.00 per person
$85.00 for two registrants from the same company
$95.00 for non-member registrants
For more information, please contact your BDD or call the Association at 888-576-1971.
---
The 2017 Northern Annual Meeting will be held Tuesday, November 14th from 11am - 1pm at the Holiday Inn in Independence. Click here to register.
The 2017 Central Annual Meeting will be held Wednesday, November 15th, from 11am - 1pm at the Embassy Suites in Columbus. Click here to register.
The 2017 Southern Annual Meeting will be held Thursday, November 16th, from 11am - 1pm at the Embassy Suites Hotel in Blue Ash. Click here to register.
---
Northern Breakfast Forum
The next Northern Region Breakfast Forum will take place on November 8th.
Date: Wednesday, November 8, 2017
Time: Coffee, juice and pastries – 7:30 a.m.
Presentation – 8:00 a.m. to 9:00 a.m.
Location: Fisher Phillips
9150 South Hills Blvd, Suite 300
Cleveland, OH 44147
Topic: Grow Your Sales Immediately
Presenter: Karla Lewis, Professional Sales Coach with Southwestern Consulting
In this high-energy session you will learn:
Ideas for creating an unlimited referral based business
Tips for developing a top producer mindset to keep yourself motivated every day
A strategy for uncovering your prospect's needs to prevent objections from ever happening
5 tangible closing techniques to bring your clients to a quick decision and prevent unnecessary follow-up
INCREASE YOUR INCOME * STAY MOTIVATED * BETTER MANAGE YOUR TIME
Now a little about our speaker: Karla has a 30+ year sales track record, always being a top producer. She is most interested in helping people who want to take their lives and careers to the next level and help them become the most MARVELous version of themselves! Her clients have enjoyed increased income, better quality of life and improved leadership skills while in coaching.
Please call Lisa Udowski, Business Development Director at 440-822-7997 or ludowski@pianko.org to reserve your seat!
←
August 2018
→
S
M
T
W
T
F
S
1
2
3
4
5
6
7
8
9

Roundstone, 15422 Detroit Rd, Lakewood, OH 44107

August 9, 2018




10:00AM

10
11
12
13
14
15
16

88 Dorchester Square, Westerville, OH

August 16, 2018




10:00AM

17
18
19
20
21
22
23

Cornerstone, 2101 Florence Ave. Cincinnati OH 45206

August 23, 2018




7:30AM

24
25
26
27
28
29
30
31
August 23, 2018
7:30AM
Cornerstone, 2101 Florence Ave. Cincinnati OH 45206
---
September 6, 2018
2:00PM
---
September 16-18, 2018
Quest Conference Center, Columbus, Ohio
---
October 18-20, 2018
Las Vegas, NV
View all »