Regional Print Week Awards Ceremonies
2022 Print Week Events
South
The Moerlein Lager House Beer Baron Hall was a fantastic and scenic location to host our Southern Region Print Week Reception. With two walls made completely of glass windows, the Great American Ball Park, the Ohio River and the Cincinnati skyline were impressive backdrops to view while celebrating the best of print!
We awarded the 2022 William Maxwell award to Roberds Converting. Vice President and General Sales Manager Philip Weinrich and Vice President Will Achberger accepted the award on behalf of the company. Philip thanked the Roberds team for everything that they do while discussing the history of the company and how far they have come today. Will was thankful to his family and shared his gratitude for his father, Earl Achberger, for buying and bringing the company to Cincinnati.
After not honoring a Printer of the Year last year, we were excited to award this prestigious award to John Bartik of Western & Southern Financial Group. John reflected on his career in print and his time at Western & Southern. He ended his speech by reminding us all to put forth good vibes into the world and live as positively and fully as possible.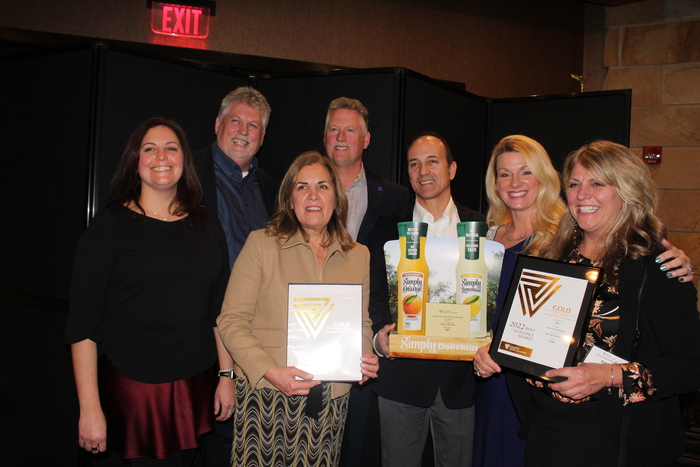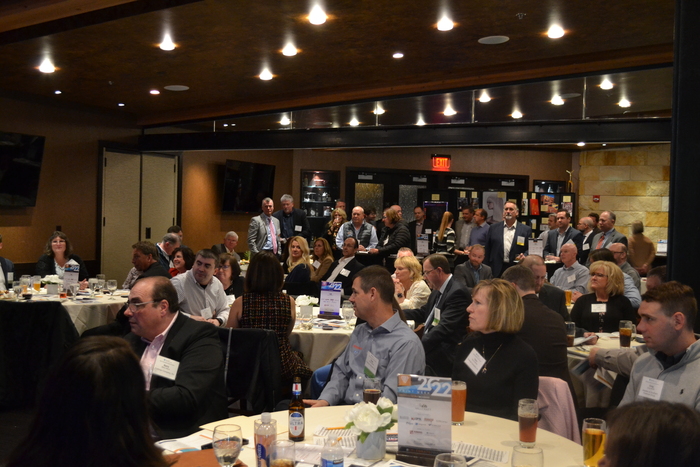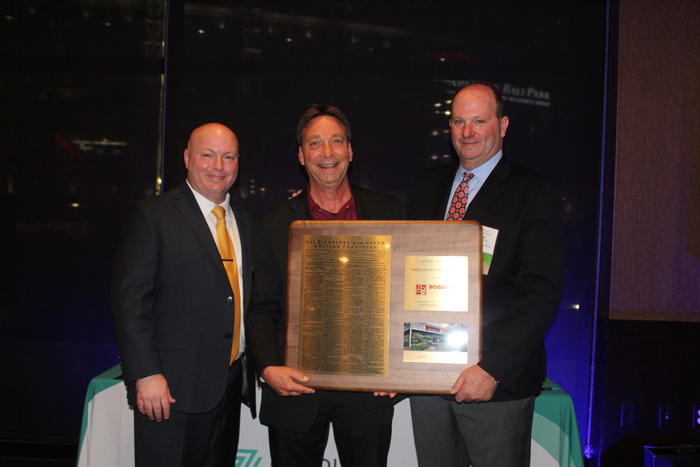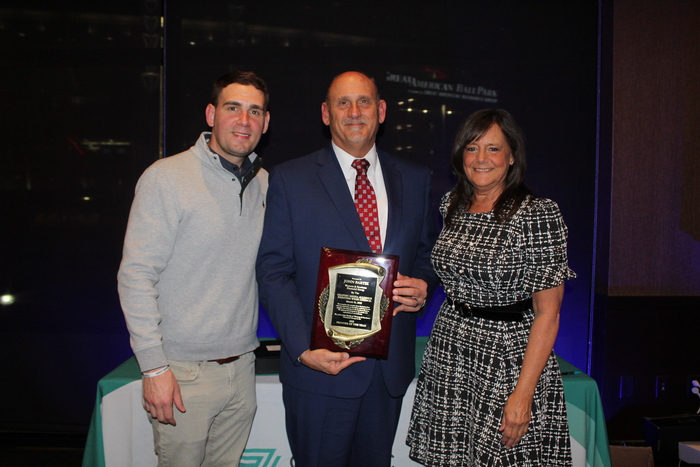 ---
Central
For our Central Region Print Week Reception, we were excited to return to Creekside Conference & Event Center in Gahanna. It was a great location to be in for St. Patrick's Day with the open and bright event space overlooking the festive, green fountain in the center of the Creekside square.
We were thrilled to award the Franklinton Award to former Graphic Media Alliance president, Jim Cunningham for his contributions to the Association and the Central Region graphic communications industry. Last year's Franklinton recipient Ed Evans was unable to attend in person; however, he shared his sentiments via Board Chair Roy Waterhouse. Ed and Roy both commended Jim for his commitment and passion for the industry. They thanked him for all that he has done for the companies in Ohio, Northern Kentucky and Michigan.
As Jim accepted his honor, he thanked all the companies that participated in the Print Excellence Awards and reminded them that they are the backbone of print. He reminded us that PIANKO/GMA has been successful for over 100 years, but not because of him, Bill Stickney before him, or Andrew after him. It is because of the member companies, families and GMA staff. He has felt fortunate to be surrounded by the best and accepted the award on behalf of everyone in attendance.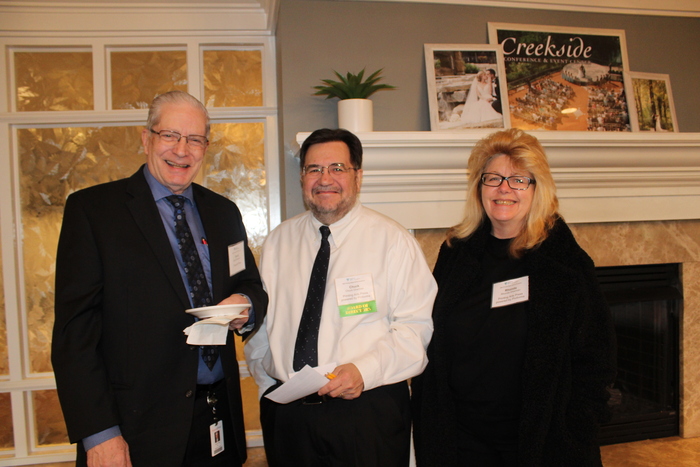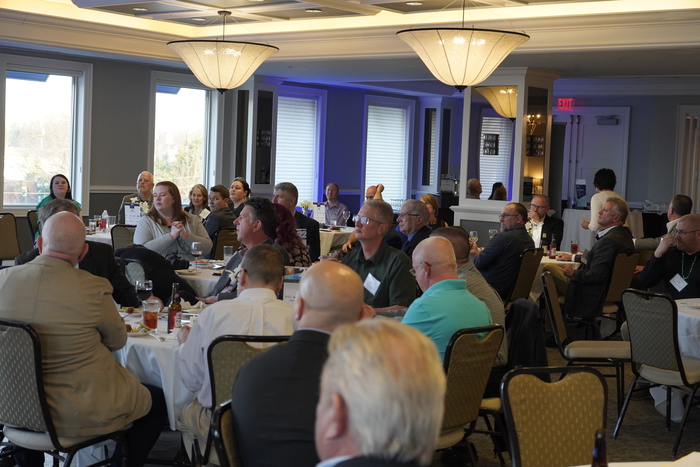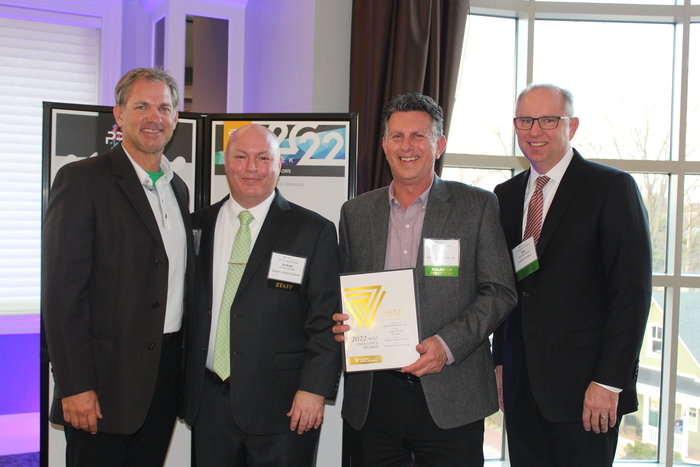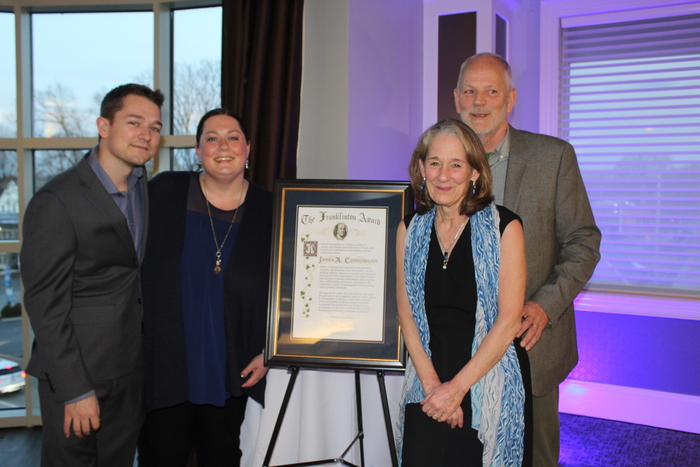 ---
North
The Beer Barrel Cellar lounge at Southern Tier Brewery was a fun and unique setting to host our Northern Region Print Week Reception. Attendees enjoyed mingling among the brew house and aging barrels while looking at the gold, silver and bronze print pieces.
It was a pleasure to induct former GMA President, Jim Cunningham, into the Hall of Distinction. Jim was introduced by fellow Hall of Distinction members David Kaufman and Jim Leitch, as well as Board Vice Chair Christian Weekley.
David covered Jim's history including his dynamic careers prior to coming to Graphic Media Alliance and how Jim had a lot of experience with non-profits which helped him during his time at GMA. He added that it has been a pleasure working with Jim and has always appreciated his advice and humor. Christian reminisced how Jim has cared for all of the members, which in turn has helped them care for their employees. She joked how hard it was to say "no" to Jim when he would call on members to help and serve. Jim Leitch finished the introduction by remembering Jim's interview process, and though he had minimal printing experience, he told the interviewers that he planned to turn GMA into a "true Association." Jim Leitch shared that this has been the case during his tenure, which is a tremendous accomplishment and why he is being inducted this evening.
Jim accepted the honor while echoing the sentiments from the Central Reception; his success has been due to the members, families and the GMA staff. While many associations experience fluctuating periods of success and failures, GMA has remained successful for over 100 years. In addition, he thanked his wife, Nancy, for always being a large supporter of his.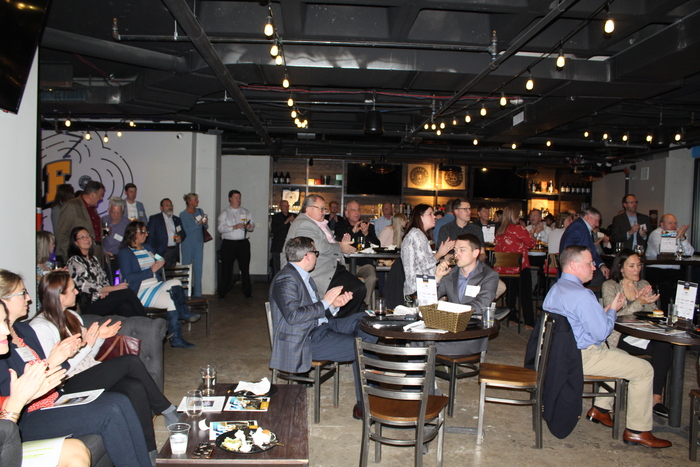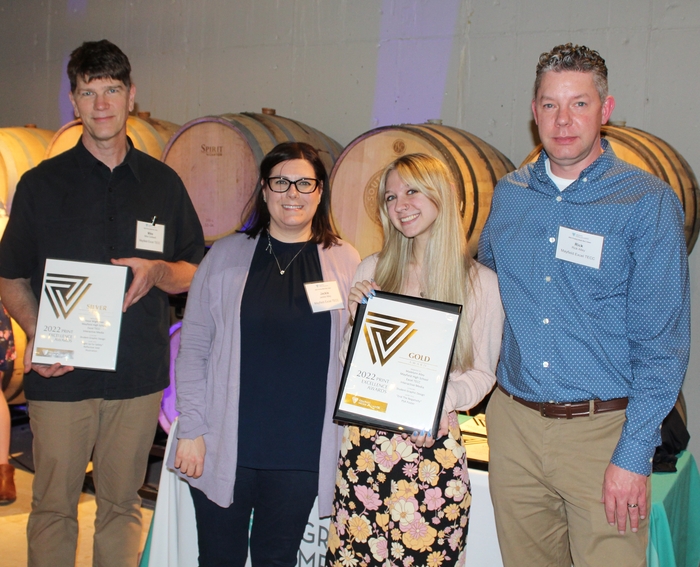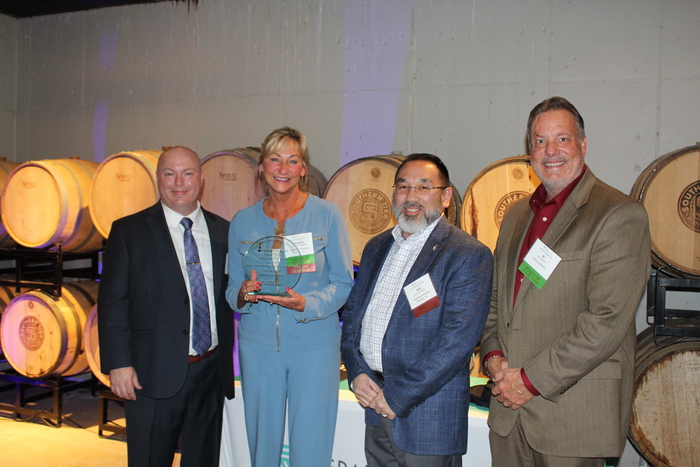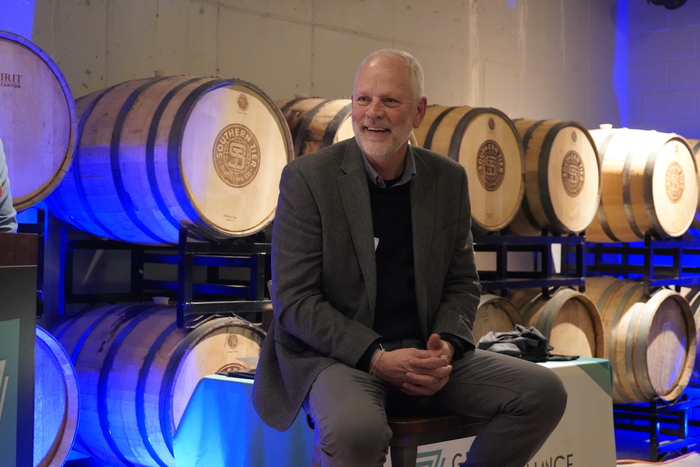 ---
Michigan
We held our Michigan Region Print Week Reception in the revitalized downtown Detroit at Detroit Beer Company, located in the 120-year-old Hartz Building. Attendees enjoyed a scenic view of the Detroit Opera House as the backdrop while celebrating print in our newest region. As only the third-year of being in Michigan, it was great to see an increase of participants in not only the Print Excellence Awards competition, but the awards reception as well.
Camille Corr-Chism of Indigo Packaging & Consulting kicked off the award presentation by speaking of the fascinating features of downtown Detroit. As a Cass Technical High School graduate, Camille has roots in Detroit. She comes from a family history of Cass Tech graduates, including an uncle who went to school with Diana Ross and who was asked to be in her band. Camille mentioned that as the home of Motown, many Detroit locals most likely are/were affiliated with Motown or know someone that has been. She spoke of the wonderful restaurants featuring all types of cuisine, as well as the local museums including the Detroit Institute of Arts where she had some of her art displayed previously. She mentioned that many do not know that there is a Frank Lloyd Wright House in Detroit. Camille especially shared that Allen Iverson used to stop and have a drink at our venue, the Detroit Beer Company, when he played for the Detroit Pistons and she would run into him on occasion when she visited.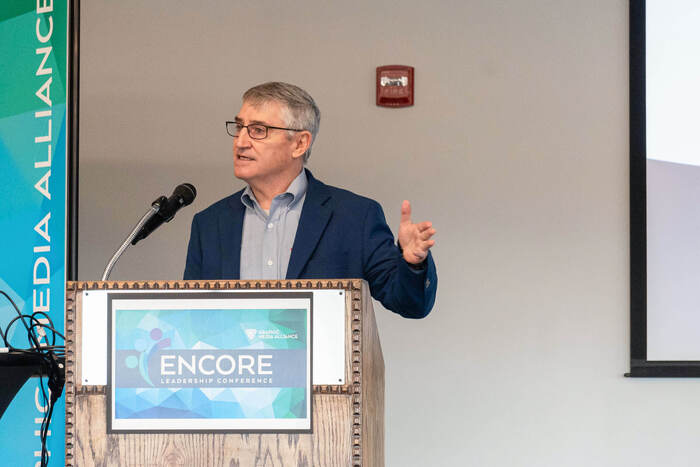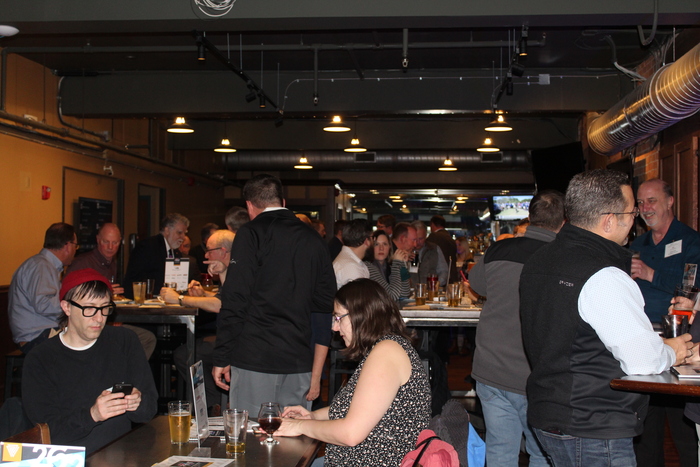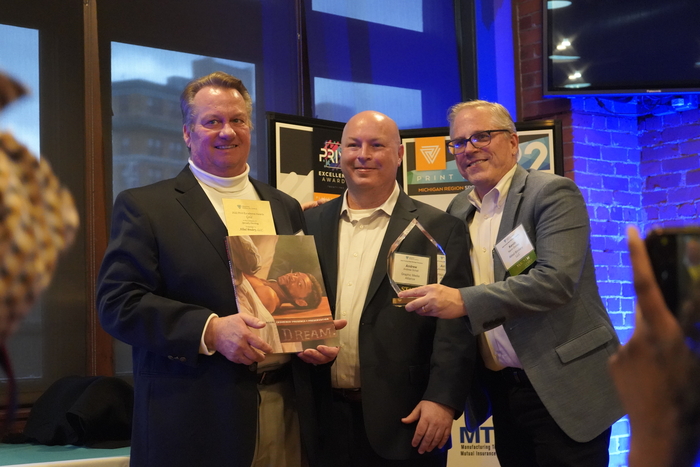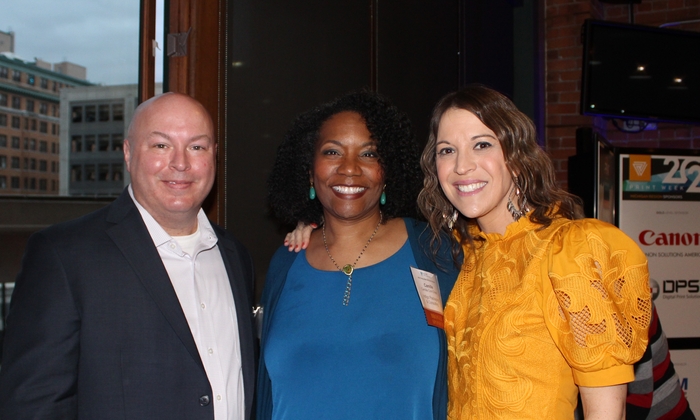 ---
Check out all of the photos from the events!
---
We would especially like to thank our sponsors. We couldn't have put on such great events without your support!