Welcome to Graphic Media Alliance
The Association's office will be closed in observance of the Thanksgiving holiday. We will be closed Thursday, November 26th and Friday, November 27th. For urgent matters, please contact your BDD.
---
Our 2020 Leadership Conference, held on September 14, was a great success! Thank you again to all of our sponsors, partners, speakers, staff and of course, all of the participants who attended virtually or in person this year. View pictures from the event on Facebook
PRINTING United President, Ford Bowers gave an update on the PIA and SGIA merger. He also reminded printers that the COVID-19 setback is temporary and to look to the horizon. Mark Potter, who is the Publisher of Canvas Magazine and CEO of Conduit, Inc., gave his insight on where he sees opportunities to help drive print businesses. The pandemic has widened the emotional gap of an already disconnected economy. He included his favorite story, reminding everyone to be the buffalo that charges though an oncoming storm and comes out ahead on the other side.
David Wilaj, Economic and Market Research Analyst at PRINTING United Alliance, filled in for Andy Paparozzi and gave an update on the most recent Print Business Indicators survey. David sees the need to prepare for a post-COVID-19 world, and sees the demand in e-commerce remaining higher. He advised that it is time to analyze market trends and act on them. Lisbeth Lyons, V.P. of Government Affairs for PRINTING United Alliance, gave an update on the 2020 election and where the stimulus package discussions stand at this time. She mentioned that there are talks on a "skinny" stimulus package that includes small business funding, and a USPS stimulus initiative, which would both be beneficial to the printing industry.
Jeff Smith, Partner at Fisher Phillips, made it clear that diversity is not enough; inclusion is needed for a successful organization to value their employees. The best initiatives to follow to expand diversity in your workforce are recruitment, career advancement and accommodations.
It was a gorgeous day on Monday, September 21, when our golf foursomes teed off at our 15th Annual Sterling Distribution Golf Tournament. The day stayed sunny and temperate as the players played a challenging 18 holes of golf, then enjoyed lunch and awards. Awards were presented to the top three teams and the proximity challenge winners. It was a fantastic day of golf and the number of golfers was just right for the current pandemic concerns.
The Association was able to raise more than $4,500 for the combined Paul Hvizda/Mark Sparks Memorial Scholarship fund. Mark was a long-time Association and Printing Industries Education Fund Board Member and was great at advocating for the things he believed in, such as encouraging young people to join the graphic communications industry. Mark and Paul were close friends for many years, and combining the scholarship to honor both men was an easy decision. Every golfer contributed to the fund and drank a toast to Mark at the 8th hole of the tournament that Mark's foursome won several times.
The 2021 Print Excellence Awards (PEA) contest is now open! The submission deadline is set for the end of December, 2020. We encourage you to begin setting aside and submitting your entries. This year, we're on an adjusted timeframe, so judging won't take place in December as it usually does. Judging will take place in February, allowing us to accept entries at our Westerville office through the end of the year. We will gladly pick up your entries as soon as you have them ready.
This year's theme is Participation, and we've added some incentives. To encourage all member companies to participate, for your first five entries, you will receive a second entry at no charge. Double your recognition and marketing potential for the same entry fee! This year, we have created a new, interactive, Call for Entries form. This will make submitting your pieces even easier.
Every year out-of-state expert judges are brought in to review the entries and determine if they are worthy of a Bronze, Silver, Gold or even a Best of Region award at the regional level. These awards will be presented in March and April at our Print Week Events, which are planned to be live and in-person just like in the past.
While normally held live, our Regional Council Annual Meetings will be hosted virtually this year. The meeting will also serve as the fourth quarter meeting for each regional council and new officers and members will be elected. Gary Jones will be presenting his OSHA & EPA discussion live via Zoom conferencing at each meeting. The regional council meetings are open to all Graphic Media Alliance Members and guests, and we strongly encourage members of your safety team to attend this vital update.
Thank you for your membership and continued support of Graphic Media Alliance.
Membership
Networking, education, insurance and buying programs are all common reasons for joining an industry's association, but like any business decision, becoming a member of Graphic Media Alliance should be evaluated based on each company's assessment of its potential Return On Investment (ROI) for its dues dollar. Of course, every membership needs to take into consideration intangible benefits including networking opportunities, fellowship with other graphic communications firms and having a trusted confidant at the Association's office to discuss business issues.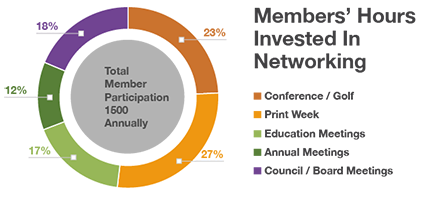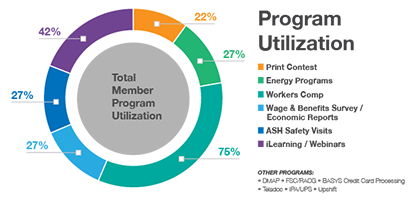 Meetings & Events
←
November 2020
→
S
M
T
W
T
F
S
1
2
3
4
5
6

Zoom Conferencing Meeting

November 6, 2020




10:00AM-12:00PM

7
8
9
10
11
12
13
14
15
16
17
18
19
20
21
22
23
24
25
26
27
28
29
30
Latest News
11/18/2020
Stay up-to-date on the evolving updates regarding COVID-19. The latest news features Ohio, Michigan and Kentucky's plans for addressing the increasing cases of COVID-19.
---
11/18/2020
Extended reality is the collective term for all physical and virtual ecosystems, including AR. The seamless integration of the digital and physical worlds is already underway.
---
11/18/2020
Stay up-to-date on the latest news from Governor DeWine in Ohio, Governor Whitmer in Michigan and Governor Beshear in Kentucky.