Complete Story

04/10/2012
It's PIEF Fundraising Time!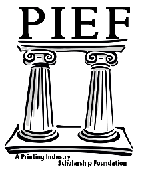 The Printing Industry Scholarship Funds were established in 1981, with a donation by Grace Vance to create an endowment in memory of her late husband, R. Reid Vance, who served the industry for 55 years. The foundation expanded in 1999, to become the Printing Industries Education, Inc. (PIEF).
There have been major changes made to the Association's PIEF program this year, including opportunities for scholarship students to become even more involved in our industry. Changes include offering additional funds for students who participate in at least two association events and students who participate in social media activities (Facebook, Twitter, blogs). $500 will be awarded to each individual student who pursues these opportunities.
If you would like to support of PIEF's primary goal — to develop industry employees of the future through financial and educational support — consider making a contribution to the educational fund. Each year we are amazed and gratified with your response. To make your donation, click here or contact the Association at info@pianko.org for more information.
< Back
|
Printer Friendly Page
←
May 2013
→
S
M
T
W
T
F
S
1
2
3
4
5
6
7
8
9

Fisher & Phillips 9150 South Hills Blvd. Suite 300 Broadview Heights, OH

10
11
12
13
14

Cornerstone 2101 Florence Ave. Cincinnati OH 45206

15

88 Dorchester Square Westerville, OH

16

88 Dorchester Square, Westerville, OH

17
18
19
20
21
22
23

OneTouchPoint-Berman 1441Western Ave. Cincinnati, OH

24
25
26
27
28
29
30
31
May 23, 2013

10:00AM
OneTouchPoint-Berman 1441Western Ave. Cincinnati, OH
---
June 19, 2013

2:00PM
---
June 20, 2013

10:30AM
88 Dorchester Square, Westerville, OH
View all »