Complete Story

10/09/2019
In Memoriam of Jim Basch
It is with deep sadness that we announce the passing of Jim Basch, formerly of Fine Line Graphics and previous member of the Board of Directors.
In the words of Association President, Jim Cunningham:
Jim Basch was a true friend of all members of the association and a close personal friend to many of us.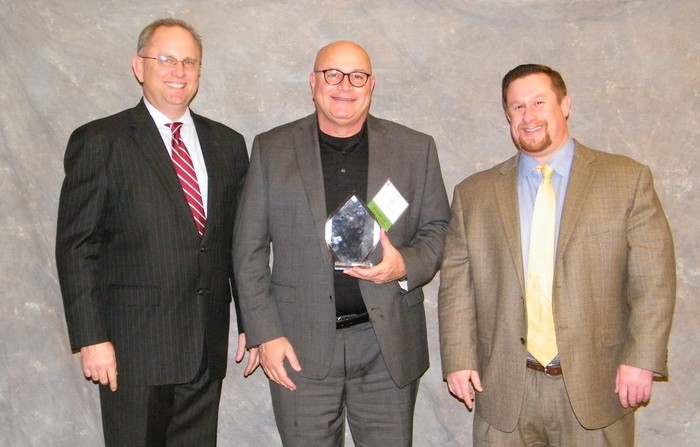 Jim Basch (center) is pictured with Roy Waterhouse and Jason Schultz, accepting his People's Choice Award at our 2017 Central Region Print Week Banquet
He was an ardent supporter of the Association and industry and was always there when we needed support or a contribution. Most importantly he gave of his time and knowledge without any expectation of return.
His financial guidance and direction as the Association Treasurer and Chairman were instrumental in building our success including most recently with our discussions with Michigan. Jim was always there when we needed him and he always found a way to make a difference. He will be greatly missed.
Unfortunately, Jim did experience great heartache recently with the passing of his son, Jason, but he was working to find positive ways to move forward. In my last lunch with him several weeks ago he was very positive and looking forward to his next opportunity. Hopefully that will now be in reuniting with Jason.
Please keep Jim and his family in your thoughts and prayers.
←
January 2020
→
S
M
T
W
T
F
S
1

Dec. 31, 2019 - Jan. 1, 2020

2
3
4
5
6
7
8
9
10
11
12
13
14
15
16
17
18
19
20
21

January 21, 2020




5:30-7:30PM

22
23

January 23, 2020




6:00-9:00PM

24
25
26
27
28
29
30
31
January 30, 2020
6:00PM
---
February 6, 2020
6:00-9:00PM
---
February 11, 2020
5:30-8:00PM
Allied Printing, 810 Rosewood St., Ferndale, MI 48220
---
February 13, 2020
10:00AM
---
February 20, 2020
10:00AM-12:00PM
88 Dorchester Square, Westerville, OH
View all »