Complete Story

04/10/2019
Project Peacock and Canon Solutions America: Future of Print Project
Source: Tara Vetro, Canon Solutions America, April 4, 2019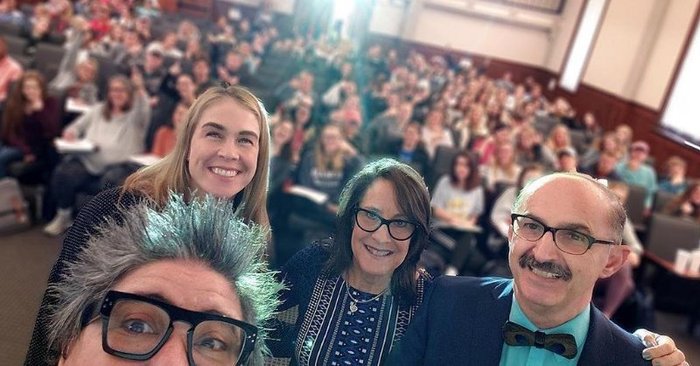 Canon Solutions America joined Print Media Centr's Project Peacock and Domtar in a special presentation to students of the School of Journalism and New Media at the University of Mississippi's Magazine Innovation Center. More than 200 students joined the discussion, which was centered on the evolution of print technology, the role print and paper play in today's digital age, and the growth opportunities within the print production industry.
According to the Director of the Magazine Innovation Center, Samir Husni, Ph.D. – known as Mr. Magazine™, "While some folks are writing print off, the Magazine Innovation Center at The University of Mississippi has been on the forefront of amplifying the future of print in a digital age."
Said Sheri Jammallo, Senior Advisor, Marketing Production Print Solutions at Canon Solutions America, "Print is changing. Where traditional magazines were static printed – everyone would go to the newsstand and buy the same one – with the digital technology of today, there's the ability to leverage data to print magazines with custom covers and inserts specifically for a targeted segment of the population or even to the individual. These targeted short run magazines are a growing trend, and technology like augmented reality and QR codes really enhances the customer experience, making it more interactive and bringing magazines and other printed materials to life."
---
2019 Leadership Conference
Deborah Corn Spoke at our Leadership Conference in 2018. She received such great feedback from our conference attendees that we wanted to bring her back for another year. We will feature her presentation on our first full day of the conference, Monday, September 16th. We are excited to have her back and hear about the latest from #ProjectPeacock.
She is the Intergalactic Ambassador to The Printerverse at Print Media Centr, a Print Buyerologist™, industry speaker and blogger, host of Podcasts from The Printerverse, host of #PrintChat every Wednesday at 4PM ET on Twitter, founder of International Print Day, creator of #ProjectPeacock, cultivator of the Print Production Professionals Group - #1 print related group on LinkedIn, and Head Girl in Charge (H.G.I.C.) at GirlsWhoPrint.net / Girls Who Print LinkedIn Group.
Through PrintMediaCentr.com. and her social channels, she engages with over 150,000 print and marketing professionals on an ongoing basis.
She has met with more than 600 print customers from agencies and brands since 2017 through #ProjectPeacock, an inkjet, toner and wide format show-and-tell brought right into their conference rooms to share the new opportunities available with digital print
←
June 2020
→
S
M
T
W
T
F
S
1
2
3
4
5
6
7
8
9
10
11
12
13
14
15
16
17

June 17, 2020




10:00-11:30AM

18

June 18, 2020




10:00AM-1:00PM

19
20
21
22
23
24
25
26
27
28
29
30
June 17, 2020
10:00-11:30AM
---
June 18, 2020
10:00AM-1:00PM
View all »