Complete Story

05/10/2018
Why PGSF matters to the future of our industry
Why PGSF matters to the future of our industry.
By John Berthelsen, VP-Development, Print & Graphics Scholarship Foundation
When I have conversations with leaders of graphic service providers, as well as the suppliers to those companies, I hear one consistent theme. They are worried about replacing a workforce that is growing older and retiring. It used to be possible to fill vacancies by "robbing" the competition for experienced workers. For the most part, those days have ended. Today companies must look closely at their ability to attract young people and facilitate their training. That is where the Print and Graphic Scholarship Foundation (PGSF) comes into play.
While the Foundation cannot replace a production worker or a CSR next month, we do provide an important resource for the macro issue of providing workers for the industry. And we cannot do this important work without the support of companies and individuals from the industry. We work with high schools and colleges across the United States to promote graphic communications as a career choice for young people. We explain the wide range of possibilities available in a stable, wide spread industry. And, in the greater big picture, this helps everyone. Our scholarship alumni are working in virtually every industry occupation for producers and vendors. Some are even working today as buyers of industry products and services.
We can assist companies with local promotion of careers with posters and career guides that inform young people about these opportunities. Many companies use these on a local basis for high school career days, when giving plant tours and for educating school officials and parents. On our website, we provide print files for localization and reproduction of the poster and guide. We also assist by providing resources for the development of intern and apprenticeship programs.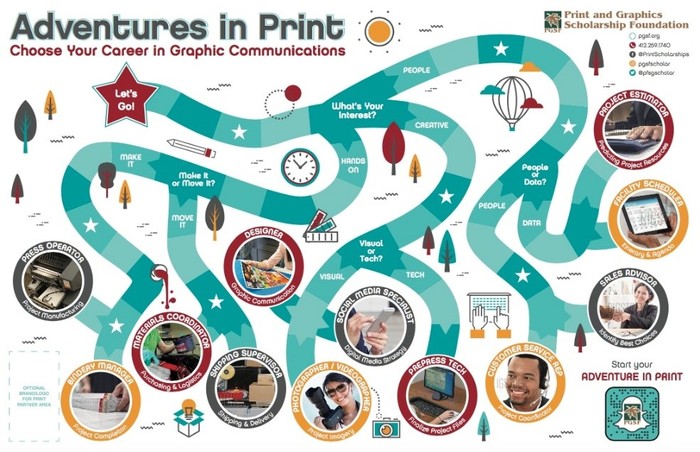 And, of course, when a student determines that they want to pursue a career in graphics, we assist them with financial support. PGSF has been around for more than 60 years and has provided support to over 7,000 students who are now working in the field. Annually, we average over 200 students receiving more than $400,000 in total. Most scholarships come from permanent endowments created over the years. But we also have annual scholarships that are funded in any given year. New endowments can be funded over a period of years, once established.
How can you get involved with PGSF today?
Make a general donation
Use the career materials available from PGSF
Join the PGSF Board of Directors
Create a scholarship in your company's name for as little as $1000
Honor an individual with a legacy endowment
Become a PGSF volunteer
Competition in today's market is more difficult than ever. The winners will be those companies that make the right strategic decisions and do the most to recruit and employ the most talented young minds. So, as the industry continues to evolve its development will rest in the hands of those who serve as its future. You can help PGSF make sure that we are attracting and supporting those bright young minds.
For more information on PGSF and its programs, go to www.pgsf.org. Or you can contact me at jberthelsen@printing.org. We look forward to building the future workforce of the industry together.
←
January 2019
→
S
M
T
W
T
F
S
1

Dec. 31, 2018 - Jan. 1, 2019

2
3
4
5
6
7
8
9
10
11
12
13
14
15
16
17
18
19
20
21
22

January 22, 2019




5:30-7:30PM

23
24

January 24, 2019




6:00-9:00PM

25
26
27
28
29
30
31
January 24, 2019
6:00-9:00PM
---
January 31, 2019
6:00PM
---
February 7, 2019
6:00-9:00PM
View all »