Complete Story

07/14/2017
Get Your Surveys Here!
Printing Industries of America Opens 2017 Dynamic Ratios Survey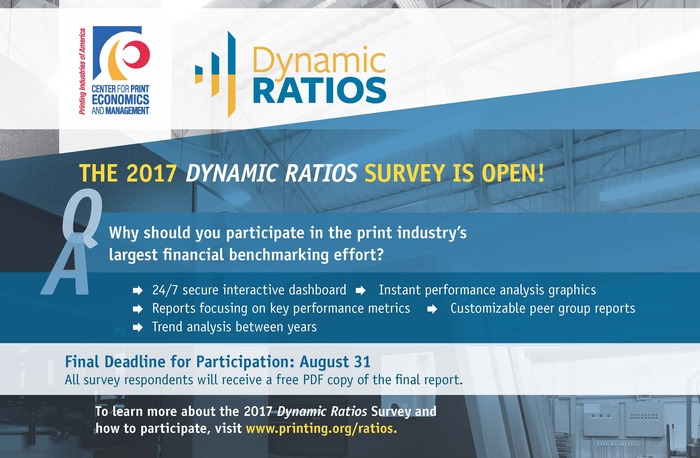 The 2017 Dynamic Ratios Survey is open for participation! Members and non-members can participate in this industry financial benchmarking survey by clicking here.
Since 1921, the PIA Ratios have been the industry standard helping printers improve profitability by benchmarking their operations against industry profit leaders. The PIA Ratios is the oldest continuously operating financial benchmarking program in the private sector of the United States. Central features of the Dynamic Ratios include:
Shorter Survey Option—a 70 percent reduction in required submitted information. Now printers need only provide 32 line items to participate.
24/7 Secure Interactive Dashboard granting printers instant access to industry financial and operating averages and profit leader benchmarks
Instant Graphics providing easy-to-understand information
Focus on Key Performance Metrics to simplify management decisions
Legacy Reports and Database still available
Peer Group Report options custom designed by users
A Web-Based Survey collection process
"The print industry is always changing and financial norms morph just as fast. To help stay ahead of the constant altering curve, the Dynamic Ratios from Printing Industries of America provides business owners the business intelligence tools they need to stay ahead of the competition," said Tai McNaughton, Economist, PIA.
Deadline: June 30, for access to the dashboard
Deadline: August 31, 2017
---
Looking For Wage & Benefit Data?
Have you recently read an article or had a discussion with a business associate regarding company policies and benefits? As you consider the need to modify or add a policy, you may think, "What is everyone else doing?" The information is not easy to gather, but Printing Industries of Ohio • N.Kentucky can provide a solution. It's our annual Wage & Benefit Survey.
Here are some interesting factoids from last year's survey:
88% of the firm surveyed in 2016 had written policy manuals.
74% of surveyed firms have a "drug free" policy, but only 57% conduct drug testing in any form. 27% of firms with less than 25 employees test for drugs, while 92% of firms with more than 150 employees test.
In 2016, 9% of the surveyed firms did not provide paid health insurance to their employees compared to less than 3% in 2012.
The average wage increase was 2.9% for firms providing increases. Over 70% of the firms surveyed provided a wage increase in 2016.
Since 2012 the plan average plan costs (Employee only) have risen slightly from $430 to $461 per month. Yet, companies offering $1,000 deductible plans dropped from 33% in 2012 to 23% in 2016.
How can you access this type of information? The easiest way is to participate! Beginning in June survey questionnaires will be sent to Association members. The cost to participate is $0.00 and the survey results (published in the fall) are FREE to participating companies! Non-member companies will spend $1,000 - $1,500 for this survey.
Participating Member companies will receive a FREE copy of the results.
Click here to access the questionnaire: Wage & Benefit Questionnaire 2017
Click here for the Job Descriptions used in the questionnaire: Wage & Benefit Job Descriptions 2017
If you did not participate in 2016 and would like to receive a copy of the survey, contact the Association office, and we'll be glad to provide a copy for only $199. It's a $1,000 - $1,500 value (non-member cost).
Deadline: July 21, 2017
←
June 2018
→
S
M
T
W
T
F
S
1
2
3
4
5
6
7
8
9
10
11
12

Roundstone, 15422 Detroit Road Lakewood, OH 44107

June 12, 2018




7:30-9:00AM

Cornerstone, 2101 Florence Ave. Cincinnati OH 45206

June 12, 2018




7:30-9:00AM

13
14
15
16
17
18
19
20
21
22
23
24
25
26
27
28
29
30
July 4, 2018
---
September 16-18, 2018
Quest Business and Conference Center, Columbus, Ohio
---
October 18-20, 2018
Las Vegas, NV
View all »